After a calorie packed 18 egg and bacon breakfast. We decided to hit the road again. This time the destination was the mountain.
We loaded a couple of empty damajuanas to drop off for refilling (as Frankie seems to go through a whole one every other day) extra sweaters and hit the road. Today's destination was Puente del Inca and the Aconcagua National Park.
Franki and me freezing at the park.
There are several ways to get to these two landmarks. Empresa Urpallata has daily buses that leave at 6 am Monday to Friday and at 7:00 am on Saturday from the central terminal, I'm not sure about Sundays but I doubt they run.
The other option would be to rent a car. For about a little bit over US$100 you'll be able to use it for a whole 24 hours, if there's 4 of you you can pack a lunch and take a day trip- it may even be cheaper than taking the bus and having lunch there at one of the local restaurants.
Puente del Inca
When you get to Puente del Inca, the bus will drop you off and you'll be able to walk down to the side of the river where you'll be able to see the 'puente' (bridge) that the Inca's used to cross over that part of the river. Right under it you'll see what is left of the old Hotel Puente del Inca.
Frankie and me freezing at El Puente del Inca
You can't see it in the picture and hey don't let you actually cross the bridge anymore because of the landslides but there are a series of thermal springs that come out of the right side of the river right under the bridge. There were supposed to be 5 of them and they temperatures ranged from 33 to 38*C ther are all of the same kind but they have different saline components. Venus, Marte, Saturno, Mercurio and Champagne (my favorite)
.
This is where the old Hotel Puente del Inca use to be. It was built in 1925 and was where all the Argentina jet set would go to relax and bath in the hot springs. Every single room in this hotel had their own private natural hot spring bath and it was one of the fanciest hotels of the time. In 1965 however there were really heavy landslides all over the area and they had to close not only the hotel but the Trans-Andinan Railroad as well. the only thing that was left standing is the old chapel that you can see from the buss on your way to Chile also.
(An old picture of the hotel source: wikipedia)
After taking our pictures we walked back through an artesian fair full of alpaca sweaters in case you get cold because you forgot your sweater (crisis = opportunity), "healing" rocks for every ailment you can imagine, semi precious stone jewelry and sulfur coated objects. Very visually stimulating. The aussies got Many Chau alpaca hats. We got back into the car and drove off to the Parque Aconcagua.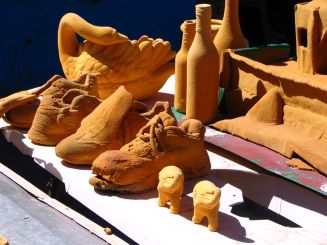 Aconcagua National Park
About 1 minute later we were at the base of the park. The Puente del Inca and the park are are really close together. Normally you need a permit to enter the park, but I think it's just if you want to camp or climb the peak. We just drove in. After about another 2 minutes we were at the base park ranger camp's little visitor parking lot. They also have a cool helicopter there just waiting to rescue a climber in trouble. Scary. And cold. I pass on that, I thought about it once but then that movie 127 hours quicky made me change my mind.
the trail
After we parked the car we got out and started walking to the trail. The circuit is about a 45 minute walk but has an occasional side trail in case you get too tired. At this point of the trip we were roughly at 7,000 meters above sea level. Walking uphill at this altitude feels like you're going to have a heart attack every 20 steps if you'r not used to it, worse if you smoke.
After about 10 minutes though you see this:
(Laguna Espejo source: the internet?)
This is an old picture. Today, both Laguna Espejo and Los Horcones are 20 - 30% dry. The whole province's water supply is about 60% of it's full capacity and it's starting to worry both wineries and the local population. Mendoza is dry, it get's it's water supply from the mountain and global warming seems to be depleting the snow caps. Also, the electric plant is powered by Rio Mendoza's flow so that's another concern, fitting the energy demand if the water flow is weak.
It was a great trip. Here are some tips to remember if you decide to do this day trip.
WEAR WARM CLOTHES: I thought I did because it was really warm in Mendoza, but I froze my butt off
BRING LUNCH: The restaurants are really bad and the food is expensive. If you are stuck waiting for the last bus have a beer or coffee while you wait.
M-F at 6:00am Sat at 7:00am: Don't forget otherwise you have to wait til Monday to take the next one, and remember that the last bus leaves at 4:00 from el Puente del Inca.

DON'T WORRY YOUR HEART'S FINE: It's just the altitude. Take it easy you're sightseeing
DON'T MOLEST THE DUCKS: Dani's funny picture on facebook. Thank's Dani!
it really means don't bother the ducks